How has summer been treating you?  Hopefully lots of outdoors time, adventures, and perhaps a vacation?
Mike, from DolfinPack, headed up from Florida to the Blue Ridge Mountains in Northern Georgia for a family getaway.  He shares some of his adventures as he blends DolfinPack in with all the fun!  Read more below: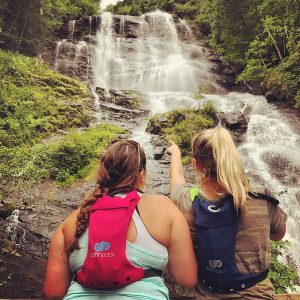 What a time spent at the doorstep of the Blue Ridge mountains on Lake Arrowhead in Northern Georgia.  Each year my family members from around the country meet for a week of fun and this was one for the books.
As an avid DolfinPack user, I knew the pack would come in handy on this vacation so I brought mine along and purchased 4 more to bring for my cousins.  The DolfinPack was a huge hit, they all loved and NEEDED these hydration packs.  Each day would start with a morning paddle from our lakefront cabin on kayaks and paddle boards into the mile and a half long lake.  You get thirsty soaking in the mountain views and wildlife as your cruise the banks.
About an hour away was the start of the Appalachian Trail which we hiked and explored two days in a row.  The humidity in the forest during mid summer has you sweating faster and than you can drink water from your DolfinPack.  It's all worth it though when you hike through the trees to find your destination at Amicalola Falls, the largest waterfall in Georgia, what a sight!
The DolfinPacks even made an appearance during our day long winery tour.  Hydration is a necessity while walking through the winding foothills covered in grape vines and of course when drinking copious amounts of vino.  There also may or may not have been wine in the pack's reservoir at one point in time.  Good thing its easy to clean out!  All in all it was a great adventure to the outdoors with friends and family and thanks to DolfinPack it was that much better!
---
Have you been using your DolfinPack this summer?  We'd love to hear about it!  Send in your images or tell us what you've been up to!  You can email us at [email protected].  You can also find us on social media:
Instagram: @dolfinpack
Facebook: https://facebook.com/dolfinpack
Looking to purchase a DolfinPack for yourself or a friend?  Use the coupon code TAKE15OFF to get 15% off your order.